The staff of The Wildcat Sanctuary has worked with Sanctuary Supplies to create this Wish List page. On the left side of this page you will find items stocked by Sanctuary Supplies and the quantity the sanctuary is requesting. Simply enter the number you would like to purchase for the sanctuary and click the ADD TO CART button.
Items can be sent to you or directly to the sanctuary. Names can be withheld if you would like to make your donation anonymously. If your items ship directly to the sanctuary, we will mail you a donation receipt.
The staff and animals of The Wildcat Sanctuary appreciate your generous donations!
PO Box 314
Sandstone, MN 55072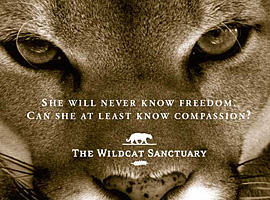 Find Out More
Don't Forget; you can contact The Wildcat Sanctuary directly to make monetary donations.
We are also in need of volunteers.
Please call us for details

This account is handled directly by the sanctuary. Sanctuary Supplies receives no money through this button.